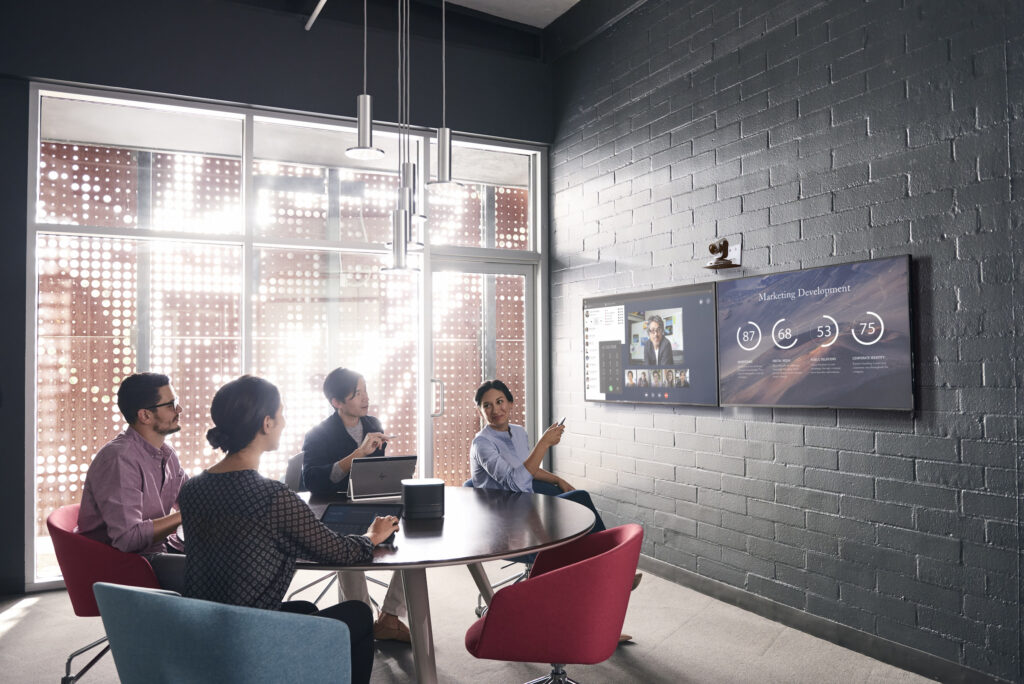 Meeting Room Equipment
Enhance your video conferencing setup with a Meeting Room Equipment service, and give your office meeting rooms the capacity to become seamless virtual environments.
Meeting Room Equipment
With strategically placed audio-visual equipment, hybrid teams can connect, communicate, and collaborate effectively from anywhere inside – or outside – of the room.
Through this service, dispersed teams can:
Remove the typical hassle of video conferences;

Set up and start meetings quickly;

Have confidence that everyone can be easily seen and heard;

Feel like they are collaborating in person with high-quality picture and sound.
The 3 Benefits of a Meeting Room Equipment service
Being able to rely on a high-quality video conferencing setup enables businesses to take advantage of a number of additional benefits.
A Meeting Room Equipment service allows businesses to benefit from:
Consistent Employee Satisfaction
Remote workers can feel isolated if forced to rely on substandard video conferencing setups – but this issue is negated if communication over video calls is easy, clear, and running optimally. With a Meeting Room Equipment service, your hybrid teams are enabled to feel co-ordinated, connected, and clear on their next steps – while also continuing to enjoy the enhanced work/life balance that comes with hybrid working.
Additionally, frustrating technology issues are minimised with the proactive monitoring and support that comes with a Meeting Room Equipment service – meaning peace of mind for you and your staff.
Wider Talent Pool
Greater ease for remote communication means that businesses are less limited by distance – which allows organisations to recruit from a much wider talent pool. An increased focus on remote work means that businesses can access the talents of employees who may not have the resources to travel daily, may be on the opposite side of the country, or may live in a different country altogether.
Having access to such a wide pool of talent boosts the capability of your business – with a Meeting Room Equipment service allowing your dispersed team to co-ordinate with ease.
Less Unnecessary Travel
A reliable and immersive video conferencing setup reduces the need for employees to be in the office. This lets employees save on fuel, and employers save on business travel – with the high quality experience of a Meeting Room Equipment service meaning that these savings are being made without much of a drawback.
Since this service lowers the need for employees to travel, this also presents a significant environmental benefit – since employees can be productive without creating carbon emissions through the use of personal vehicles.
Why does your business need a Meeting Room Equipment service?
Following the prominence of remote work, many companies are benefiting from the increased efficiency that comes with video conferencing. By communicating through video calls, multi-office companies are able to make decisions more quickly than ever before – enabling them to reduce task completion time and increase productivity.
However, as helpful as it is, the experience of video conferencing still has its limits – and communication can be disrupted by bad room acoustics, limited availability of quality hardware, and complicated software setup. This is where a Meeting Room Equipment service comes in.
Completely scalable to fit a variety of room sizes, these solutions feature hardware that is easy to install, with software that can be set up with little technical expertise required. Through a Meeting Room Equipment service, office-based staff can activate virtual meetings without difficulty; with top quality audio-visual technology enabling them to communicate clearly and easily.
What is included in a Meeting Room Equipment service?
A Meeting Room Equipment service centers around a video conferencing setup, comprised of sophisticated speakers, microphones, screens, and webcams, among other things. These devices provide top quality sound and video to create an immersive virtual environment for hybrid teams to communicate within.
Once your meeting room has been appraised for size, acoustics, build, and location; the perfect Meeting Room Equipment service can be designed to best suit your needs. Every setup is bespoke to each room, however, most fall into one of the below room set ups:
For rooms with 1-2 seats, the Huddle Room lets you make the best use of your available space by providing compact audio-visual hardware. Visual equipment adjusts to excessive backlight or darkness to ensure that participants can be seen clearly.
4-6 seater rooms are best suited to the Small Room, which ensures crystal-clear sound quality with equipment that adjusts to the acoustics of smaller spaces. Simple setups mean that meetings can be started quickly, with minimal effort.
A meeting room for 6-12 seats requires the Medium Room, which closes the gap between people and setup with additional hardware, whilst also ensuring that cables are kept tidy and uncluttered. AI-powered webcams detect, focus, and follow whoever is speaking; helping remote workers to keep track of discussions even in reasonably populated rooms.
Designed for rooms containing more than 12 seats, the Large Room uses additional speakers and microphones to allow everyone to be part of the conversation. Sound balancing ensures that remote workers are clearly heard throughout the room, while office-based voices are transmitted back evenly – ensuring that no-one is drowned out of discussion, no matter where in the room they're sitting.
Why choose Apogee as your Meeting Room Equipment provider?
The tools in a Meeting Room Equipment service is continually monitored and supported by Apogee's specialist engineers – with the support cost included within the total price. As well as ensuring maximum uptime for your devices, a lease agreement paid in instalments gives you full transparency of your budget month-to-month.
Furthermore, Meeting Room Equipment clients can be assured of having the optimal devices to suit their meeting space – since, as a subsidiary of HP Inc., Apogee enjoys strong business relationships with many leading providers. Not being beholden to sell one single brand allows us to put your needs front-and-centre, and construct a solution to suit.
GET IN TOUCH
Want to get in touch? We would love to learn about your business challenges and how our solutions can help you...
By submitting this form, you acknowledge that you have read and understand the Apogee Privacy Statement.
Read our Privacy Policy