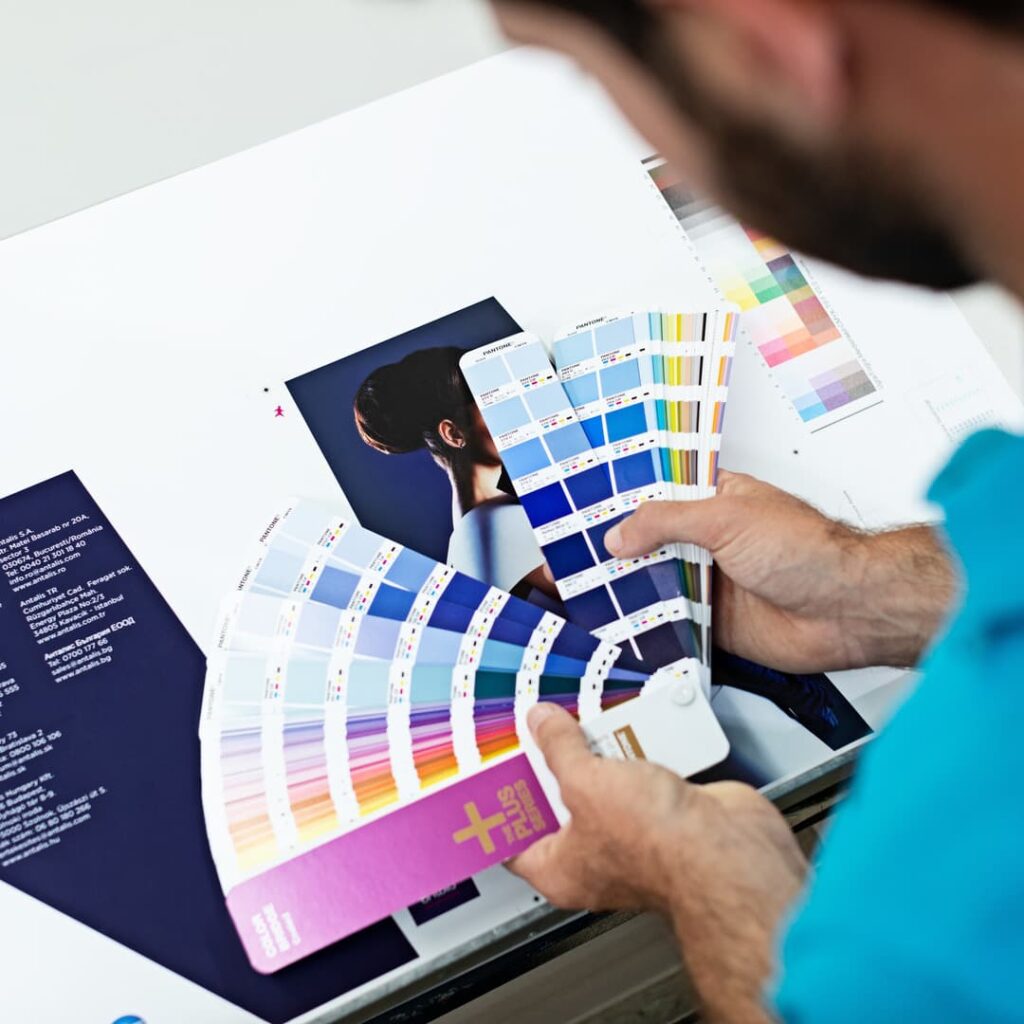 Production Print Service
Commercial printers and printrooms alike eliminate multiple unnecessary touch points from operations through our multi-brand, industry-leading production print solution. Whether you are a small, independent printer or a global corporation, our production printing services can support you with delivering efficient and high-quality projects on-time and within budget.
What is Production Print?
Apogee's Production Print solutions are a more specialised arm of Managed Print Services (MPS). A production print service is ideal for commercial printers and printrooms looking to streamline operations, reduce costs and minimise waste.
You might be wondering, what is a production printer VS a normal printer? Production printers are more sophisticated devices than the average printer; capable of producing high-volume print runs at high-speed, and at a high quality.
However, what really distinguishes a production printer from the regular kind is that, by using software to input a series of workflows, they are able to automatically perform functions such as:
Binding
Folding
Trimming to produce fully formed booklets, pamphlets, etc.
By offering cost-effective, state of the art  production print devices alongside Information Management and Process Automation solutions, we enable smaller, independent commercial printers to turnaround projects easier.
Find out more about how production printers work and how they enhance operations within the printing sector by watching our video:
The 5 Benefits of Production Print
Apogee's Production Print service not only gives you access to high-speed, high-volume, high-quality production print devices – but our supporting software also enables commercial printer businesses to:
Improve efficiency
Control costs
Reduce your environmental footprint
Increase productivity.
Take a look at the benefits of investing in a production print service and learn more about how it can support your business in delivering outstanding operations.
Production Printers Increase Efficiency
At Apogee, we understand that efficient device usage is one the biggest daily challenges when it comes to commercial print - not least because too many touchpoints can affect the profitability of short-run jobs. However, we are committed to supporting commercial print retailers with streamlining device usage which is why, with a production print service from Apogee, touchpoints that arise from outdated or poorly configured technology can be easily rectified.
Apogee provides in-person training with our specialist production print consultants, to ensure that clients know how to make the best use of their production print equipment. By implementing efficient document workflows that automate and reduce touchpoints, we enable commercial printers to streamline their print production and ultimately become more profitable.
Control Costs with Production Printing
Our Production Print service gives commercial printers a substantial advantage, in that it allows you to access industry-leading devices – but paid for in manageable operational costs spread over a lease term, as opposed to one costly capital expenditure.
With a production print service from Apogee, costs are all factored into one transparent bill paid in instalments, including:
Delivery
Installation
Engineer maintenance
This way, commercial printers have complete control over print costs, and will be able to accurately forecast budgets accordingly.
If you have any questions about the cost of our production print software, please get in touch with us today.
Network of Regional Production Engineers
By choosing Apogee as your Production Print provider, you also gain access to our industry leading support. Through our 24/7 call centre in Maidstone, supplies for replenishment and repair can be easily co-ordinated nationwide from our warehouses in Lincoln and London.
Furthermore, Apogee does not sub-contract engineer services from third parties – instead, each of our specialist engineers are fully trained in-house, in order to maintain consistency across our entire production print service process.
The reach of Apogee's servicing and support infrastructure extends across the UK and Europe, with each of the 200-plus field engineers having received in-house training across our entire multi-brand portfolio.
If you're in need of:
Toner replenishment
Support from our remote helpdesk
Specialist assistance from an engineer
You can simply log your request into Apogee's Client Portal and we can support you with your production print request quickly and effectively.
Apogee clients may also make use of our backup services, via our ODS facilities – one based in the North in Warrington, and one in the South, in London.
Continual Supply Replenishment
Instead of having to rely on your internal departments to monitor print usage and organise consumable replacements, when you invest in our production print software, our team will notify Apogee HQ when your onsite parts inventory reaches a predetermined level - ensuring that replacements are dispatched ahead of time to keep your inventory levels from ever running out.
Reduce Your Environmental Footprint and Waste
Every organisation has a responsibility to reduce waste as part of being a sustainable business - and when it comes to high-volume production print, resources must be properly moderated, such as:
Stock
Consumables
Electricity
By providing sophisticated, high-efficiency production printer devices that can incorporate sustainable consumables, our Production Print services enable commercial printers to incorporate more responsible practices into your operations and reduce your environmental footprint.
Apogee clients also have the option to enrol in Print Releaf, which reforests trees equivalent to your print output – which can be a valuable part of any sustainability strategy.
Apogee Production Print Partners
Apogee's Production Print service is designed to give commercial printers access to industry-leading devices, affordably– combined with the full support of a managed print service.
Apogee is proud to have close relationships with the world's leading manufacturers, allowing us to select the ideal combination of print technology for your specific needs.
Take a look at some of the exceptional production print partners we work with:
Print Production Service FAQs
Why choose Apogee as your Production Print provider?
Cost-Effective
As well as offering our own rental scheme, Apogee are uniquely placed to navigate your commercial print business through various routes to market.
By taking our awareness of competitive rates from some of the biggest names in the industry, and combining it with our relationships with specialist leasing providers, we can help you secure the highest quality print production service for your money.
Cost-structure
By utilising this Production Print service, commercial printers benefit from a transparent and consistent cost structure throughout their contract – which includes Apogee's "Service Excellence" approach, with device uptime being maintained with a 94% first-time fix rate.
Fully-trained teams
To ensure that commercial printers are using the latest technology to its maximum capability, our team will ensure that your operators are fully trained.
By providing training on features such as automated workflows – i.e., how to input a series of instructions that eliminate unnecessary touchpoints from your printing processes – Apogee enable you to maximise efficiency across your operations.
Device maintenance
By taking full responsibility for device maintenance, Apogee enables commercial printer businesses to get the most out of your devices, enabling you to focus on your core responsibility: running a business.
Additionally, our "Service Excellence" provides unrivalled support to sustain and optimise your production print device, ensuring that your organisation has everything you need to deliver value to your customers.
Why does your commercial print business need a Production Print Service Provider?
Regardless of the size of your commercial print business, the service you provide relies on:
Device uptime
Performance
Output
While you could purchase your devices directly as a capital expenditure, the benefits of doing so are relatively short-lived - especially compared to the efficiencies that come with the monthly operational expenditure of production print services that Apogee can provide to the commercial print market.
So why does your commercial print business need a Production Print service provider? Broadly speaking, one answer is cost. The simple act of implementing a leasing solution already enables your business to make significant long-term savings, since costs are spread out consistently over a lease-term - with support included on a cost-per-page basis.
However, these savings can be further compounded by the efficiencies that are created by utilising our full range of Managed Print Services (MPS).
What do our Production Printing Services include?
When you invest in our Production Print Service, you will receive:
High-quality, technologically advanced production printers
Full training on our production printers by our experienced team
Peace of mind, knowing that your operations will be streamlined, deadlines will be met and budgets won't be constrained
If you have any questions about our production print service or our production printers more generally, get in touch with us today.
TriPrint
Sustainable printing enables print retailer, TriPrint to achieve overall ESG goals through brand new digital press which enabled them to benefit from better quality production and lower running costs.  
As well as being on-hand to offer technical training and support to employees, TriPrint received enhanced quality print and output from their new fleet of Production Print technology. 
GET IN TOUCH
Want to get in touch? We would love to learn about your business challenges and how our solutions can help you...
By submitting this form, you acknowledge that you have read and understand the Apogee Privacy Statement.
Read our Privacy Policy